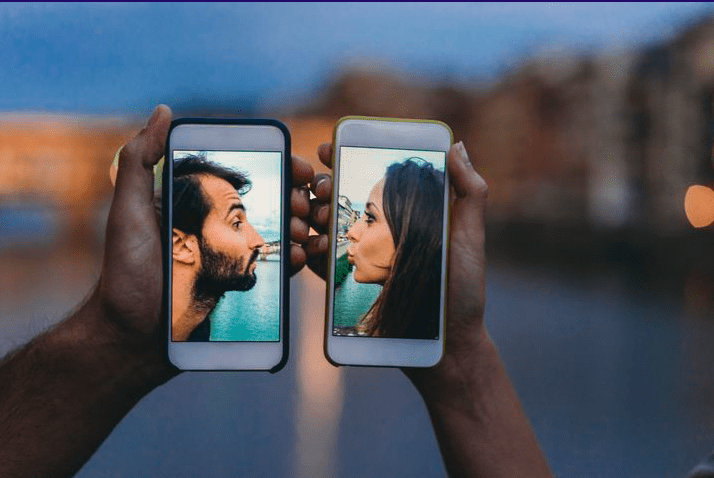 Joss McDonald ruminates on the meaning of 'love' in these discombobulated times.
Awww, Love in the Time of Cholera — Opps, I mean Love in the Time of Coronavirus. Okay, really what the fcuk am I saying? There ain't no love happening right now for a lot of us. Unless, of course, you were one of those lucky single people who found a mate on Tinder or Bumble by way of an original pick-up line.
Maybe it was a get right to the point one such as "Come quarantine with me?" Or the more cheesy "The only thing not quarantined is my heart when I look at you?" Or a naughty one "The Coronavirus might have shut everything down, but I'm still open for business?" Perhaps a practical one, "I've got plenty of TP and food- want to bunker down with me?" Or the so bad it's good line "If the Coronavirus doesn't take you out, can I?".
There's amazingly been quite a bit of success with lines like these, as well as plenty of new-ish relationships where people suddenly shack up together. So much so, The Edge radio station I stream from New Zealand has featured a few time slots about this new cohabitation phenomenon. Here's the thing – you either move in together, or you won't see each other for at least a month, maybe two, or really who even knows?! How could anyone say no to moving in with someone they've been dating only a few months when the lust and passion are at it's height?
Or, maybe you're like me, and live in a tourist town devoid of any but approximately three, three tourists right now! Oh, and most of the "eligible" single expats have left too. Which means that, yes, you guessed it, we will not, for the forseeable future, be having any sex in the city.
I know for some of you, it won't bother you too much. Alright, I'll survive too, but there's nothing like an impending warning to bunker down for an undisclosed amount of time to make you really wish you'd found your Mr. Right — or at least a Mr. Right Now.
There's still one or two guys coming up on Tinder here a day and I think a few over. I recently matched and have exchanged messages with two who have been keen to meet. Sure, we can do a "social- distancing" date over coffee. I mean, how does that work?!
Are we supposed to sit at separate tables across the room from each other? Maybe we could write our questions on notes of paper, like in primary school, and get them passed back and forth by the wait staff- sanitizing our hands in between? Or, bring personal-sized white boards and markers to ask our questions on? Shit, but then I'd need to wear my glasses to see that distance! Ughh!
At what point do we not have to sit six feet or six meters, or whatever the new safety standard is, apart? Maybe every date we can lessen it by one foot, and if we have six successful dates, we can now finally kiss? And eventually (cover you ears mum and dad) have . . . . !
What if you don't live alone? As whoever lives in your house is part of your "bubble", that person will now have to pass the bubble test! What would the bubble test consist of?
Can cook?- You'd definitely want someone who can contribute to that.
Knows how to use a mop/broom/vacuum?
Has good handyman skills?
Is eager to play board/card/drinking games with your family or flatmates?
Isn't a screamer! Yes, you might want to be having great sex, but nobody, and I mean nobody in your house wants to hear you! — Especially if they are single! *Note to self: Ask if they are a screamer in the above social-distancing date questionnaire.
Sorry, I'm getting ahead of myself here, as unfortunately, I have no prospective Mr. Rights in sight. Okay, yes, I have had two guys ask to meet, and so far I've met one. He was nice, good at conversation, but there wasn't any spark.
Now, more than ever, I feel like there's huge pressure on the date for it to be "all or nothing". There's got to be that almost instant chemistry and connection, because there isn't time for it to build. However, just because we're both not able to leave the country and there is an impending lockdown, doesn't mean it's automatically "Love during Coronavirus". So, as they say, next!
I still have one more guy I could meet, as we're not in a state of emergency lockdown here, yet. I'm not holding out a lot of hope, however, as my gut feeling is telling me he's not my type – although he loves dogs, and has already said he wants to quarantine at mine because I have one.
Anyway, it's okay, because I'd rather quarantine alone, then with the wrong guy out of desperation. Just in case, I'm prepared — if not, well there's always Netflix. What better time for a Sex in the City binge-watching marathon, than for the next few weeks?
Samantha my girl, I'm coming for ya!
---
Joss McDonald is a resident and wordster from Siem Reap, Cambodia.
For more Joss click here.
Her relationship status remains unknown.